Dean Talmadge E. King, Jr., MD, announced the appointment of S. Andrew Josephson, MD, as the new chair of UC San Francisco's Department of Neurology, effective July 1. 
Josephson is the Carmen Castro Franceschi and Gladyne K. Mitchell Neurohospitalist Distinguished Professor of Neurology. He is the director and founder of UCSF's Neurohospitalist Program, and has served as the Medical Director of Inpatient Neurology for over a decade.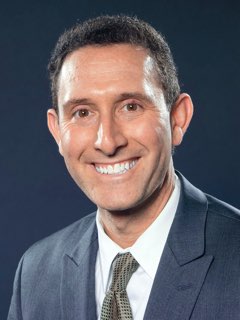 After graduating from Stanford University, Josephson earned his medical degree at Washington University in St. Louis. Also, he completed an internship in internal medicine and a residency in neurology at UCSF, where he was chief resident. He also completed fellowships in vascular neurology and behavioral neurology at UCSF.  Josephson has subsequently held a variety of leadership roles in the department, including serving as acting chair from 2014-2015.
In addition to these departmental roles, Josephson serves the school and UCSF Health in a number of capacities including as the co-director of the Medical Student Brain, Movement, and Behavior course, the co-chair of the Destination Programs Committee as part of UC Health's strategic plan, and as the chair of UCSF's Medical Ethics Committee. In 2016, his contributions were recognized when he was named as a recipient of the Lloyd (Holly) Smith Award for Exceptional Service to the School of Medicine.
Josephson's research interests include improving models of inpatient neurologic care delivery, quality and safety in hospitalized patients, delirium, and the contribution of stroke to cognitive decline. He has led multiple efforts nationally in neurology to improve the quality of care of hospitalized patients, and he continues to serve as editor-in-chief of JAMA Neurology, a leading journal in the field.
He has won numerous teaching awards from medical students and residents at UCSF, including being selected to present the keynote address for the School of Medicine commencement; the Henry J. Kaiser Award for Excellence in Teaching; the Academic Senate Distinction in Teaching Award; and the Robert Layzer Golden Toe Award for resident teaching.
Aside from work, he enjoys spending time with his wife and two children as well as hiking and running trails and roads throughout the Bay Area.